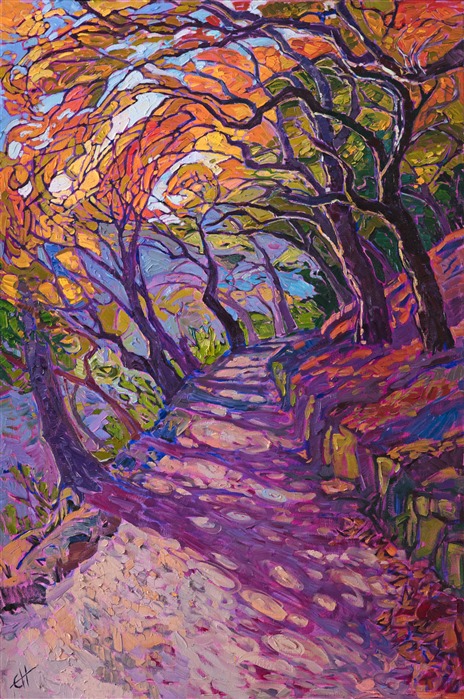 Greetings dVersians! Not usually being at a loss for words, it took me awhile to find and settle on today's word, "way" for today's quadrille prompt word. Way feels active to me, whether it is a path that is traveled on, something you travel to, or that you bring up close. It can be a template to follow, a style to be adopted or an opportunity that increases one's options. Whether it's a universal template or an individual's choices and behaviors, the dots are plotted on a map; or maybe it's just a faint sound of trickling water heard just beyond the trees.
What I love so much about poetry is that each poem is a poet's unique view from their perspective.
I think this first example is quite interesting:
The Way In
by Linda Hogan
Sometimes the way to milk and honey is through the body.
Sometimes the way in is a song.
But there are three ways in the world: dangerous, wounding,
and beauty.
To enter stone, be water.
To rise through hard earth, be plant
desiring sunlight, believing in water.
To enter fire, be dry.
To enter life, be food.

The next example sounds like a traveler who is stumbling along the way.
The Way
by Edwin Muir
Friend, I have lost the way.
The way leads on.
Is there another way?
The way is one.
I must retrace the track.
It's lost and gone.
Back, I must travel back!
None goes there, none.
Then I'll make here my place,
(The road leads on),
Stand still and set my face,
(The road leaps on),
Stay here, for ever stay.
None stays here, none.
I cannot find the way.
The way leads on.
Oh places I have passed!
That journey's done.
And what will come at last?
The road leads on.
This last one was a delightful find, a video produced of myriad images while Tom O'Bedlam is reading Charles Bukowski's poem, "roll the dice."
Today's challenge, should you choose to accept it, is to write a quadrille poem. If you're new to dVerse or the quadrille, it's simply a poem of 44 words (excluding the title.) You MUST use the word "way" in your poem.
If you are new, here's how to join in:
*Write a poem (in any form) in response to the challenge.
*Enter a link directly to your poem and your name by clicking Mr Linky below and remember to check the little box to accept the use/privacy policy.
*You will find links to other poets and more will join, so check back later to read their poems.
*Read and comment on other poets' work–we all come here to have our poems read.
*Please link back to dVerse from your site/blog.
image: "Mosaic Path," by Erin Hanson